Often our lives can be filled with busy schedules, stress, and a lot of pressure. But alongside our manic lifestyles it's important to prioritise your wellbeing and ensure that your routine gives you time to switch off and destress.  
From getting outdoors and receiving your daily dose of vitamin D to going on a hike, we've put together a range of ways for you to explore how to improve your wellbeing in your daily routine. 
Why is Wellbeing Important?  
Looking after your wellbeing is fundamental to your overall health; it's about recognising that your body needs time to relax away from any stress, thoughts and feelings you've encountered throughout the day.  
Investing time into your wellbeing routine is also a great way to help you boost your serotonin levels, the feel-good hormone that can help promote positive endorphins around the body, making you feel happy. Creating your own wellness routine may also provide benefits such as:  
Increased productivity 
Reduced fatigue  
Stress relief 
With that in mind, here are a few steps to help improve wellbeing: 
Steps to Improve Wellbeing 
1. Digital Detox  
It can be so easy to spend hours mindlessly scrolling on your phone or sat binge-watching your favourite TV show. Instead, you should try to set yourself time limits to step back from technology.  
Giving yourself the opportunity to have a digital detox away from any screens will allow you to channel your energy into something else – making you become a lot more productive. Why not try yoga or channelling your energy into something creative, like painting? 
2. Go Outdoors  
Take in the fresh air and boost your vitamin D levels by getting outdoors. Vitamin D is crucial to your overall health and wellbeing, helping to support your body's normal immune function and the normal absorption of calcium and phosphorus for healthy bones. You can get outdoors by simply going for a walk, a hike or just sitting outdoors with a book. 
While embracing the outdoors, why not take our trusty Hip Pack? Small yet practical, this hip pack works to keep all your essentials safe and secure while you're out and about.  
3. Stay Hydrated  
Having a water bottle to hand to keep you hydrated throughout the day is vital to support your health and wellbeing. Drinking plenty of water not only helps you avoid getting dehydrated, but it can also help to regulate your mood, cognition and keep you energised. 
When you're on the move, it can be easy to forget to stay hydrated. With our Smith The Roll Pack 15L with Pockets backpack, you can securely store your water bottle in its side pockets, ensuring your water bottle is always within reach to help you stay hydrated while you're on the go. 
4. Live More Sustainable 
Instead of choosing to jump in your car when going on short trips, choose to walk or cycle instead. Just by making this simple change you're taking the step toward living a more sustainable lifestyle. For more ways on how to live more sustainably, check out this article: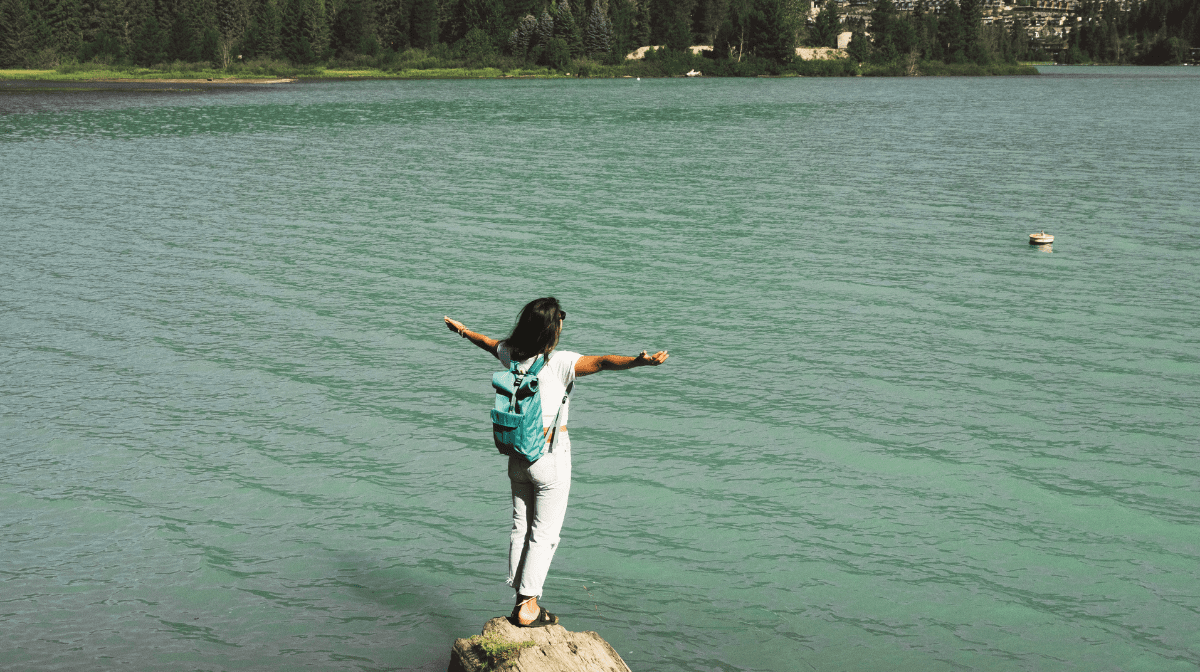 Our mission at Millican is to put sustainability first. We do this by giving post-consumer waste another chance to live, by reusing and recycling it into our entire bag collection. What's more, each of our bags and accessories are designed to last a lifetime, so you can start your journey to sustainable living by choosing one of our versatile bags. 
Check Out Our Sustainable Bags 
5. Try Meditation  
Becoming more aware of your thoughts and what's going on inside your body is a great way to feel more connected to yourself and boost your wellbeing. All you need to do is give yourself five to ten minutes out of your day to concentrate on your breathing. Focusing your mind on your breathing while practicing meditation can help you to destress. 
6. Go on a Hike 
We all know that exercise can be beneficial for your body, but did you know it can also help to improve your wellbeing? Get out of your comfort zone and go on a hike amongst nature to help release endorphins and serotonin, the feel-good hormones that will ultimately boost your wellbeing. 
While you're on a hike, take everything you need with our sturdy Fraser The Rucksack. No matter how long your hike will be, this rucksack will provide you with the perfect amount of space for you to carry all your hiking gear and essentials with ease.  
Why not check out the top 50 hikes that you can explore, while helping to improve your wellbeing: