Winter is well and truly here, and while some may shiver at the thought of winter camping, it's something you don't want to miss out on. Imagine being wrapped up, sipping hot chocolate and watching the night sky fill with stars, it sounds like a dream, right?  
We've put together the perfect winter camping essentials, to prevent the cold weather from putting a stop to your winter camping fun! Carry on reading to discover how to keep the chills at bay, with our top tips for camping in the cold.  
What to Wear Winter Camping  
There's no doubt you'll be switching out those short sleeves and thinner clothes to thick, comfy jumpers this winter, and that's exactly what you should opt for when winter camping! Layers will be your best friend to tackle the cold weather, but if you're struggling to think of what to wear winter camping, here's just a few clothing items you should consider:  
Base layer  
Long sleeve tops  
A fleece  
Sweatshirt or hoodie  
Thick waterproof jacket  
Hat, gloves and scarf  
Thick trousers  
Suitable walking shoes 
Top 9 Winter Camping Gear 
1. A Cosy Sleeping Bag  
It goes without saying that if you're camping, you'll need a sleeping bag. But when you're camping in the winter you're going to want to rely on a sleeping bag that is a little more thicker than usual. In particular a season 3 or 4 sleeping bag. These sleeping bags are specifically designed with the winter weather in mind, so you can be assured that you'll be nice and toasty when camping in the winter.  
2. Sleeping Mats  
This might seem an unusual packing request, but for those go-to winter campers, they know this is essential. When you sleep on the ground the cold travels upwards, so if you're directly lying on the ground you may end up with a slight chill. Introducing a sleeping mat, not only elevates the comfort when camping, but also helps keep the cold from creeping in.  
3. Waterproofs  
Especially If you're camping in the UK, the winter weather isn't just cold, it's normally accompanied with rain. So, where you can, whether that be your tent, clothes, walking boots or bag, choose waterproof. Our Millican bags and accessories are made using high-quality, durable, water repellent finishes, so you can keep your belongings safe and dry when winter camping. 
SHOP OUR MILLICAN BAGS AND ACCESSORIES  
4. Layers  
We'd hate for you to be left shivering during your winter camping, so it's always best to stock up on all your favourite woolly jumpers and blankets. That way if you get too hot, you can simply just remove a layer.  
5. Lighting  
The shorter days in the winter means less time in the light. Although you could rely on the torch on your phone, it's best to save the battery and use your phone sparingly. A portable light will give you the flexibility to keep a light on, without the need of staying with it.  
Expert Tip: Just in case your battery falls short, we'd recommend packing a couple of spare batteries!  
6. Flask  
Have quick and easy access to a hot drink when you're on the move. Having a flask filled with a hot beverage will be the perfect companion during the winter, when you're out embracing nature. 
7. Hot Water bottle  
Say goodbye to dancing in your sleeping bag to try and stay warm, and instead place a hot water bottle in your sleeping bag 15 minutes before you're ready to get tucked up. This way you can preheat your sleeping bag, and experience warmth and comfort instantly.  
8. Campfire Essentials 
It wouldn't be a winter camping trip without a campfire. Keep extra toasty this winter camping trip with a super cosy campfire! Check out some of the must have campfire essentials you should add to your camping bag!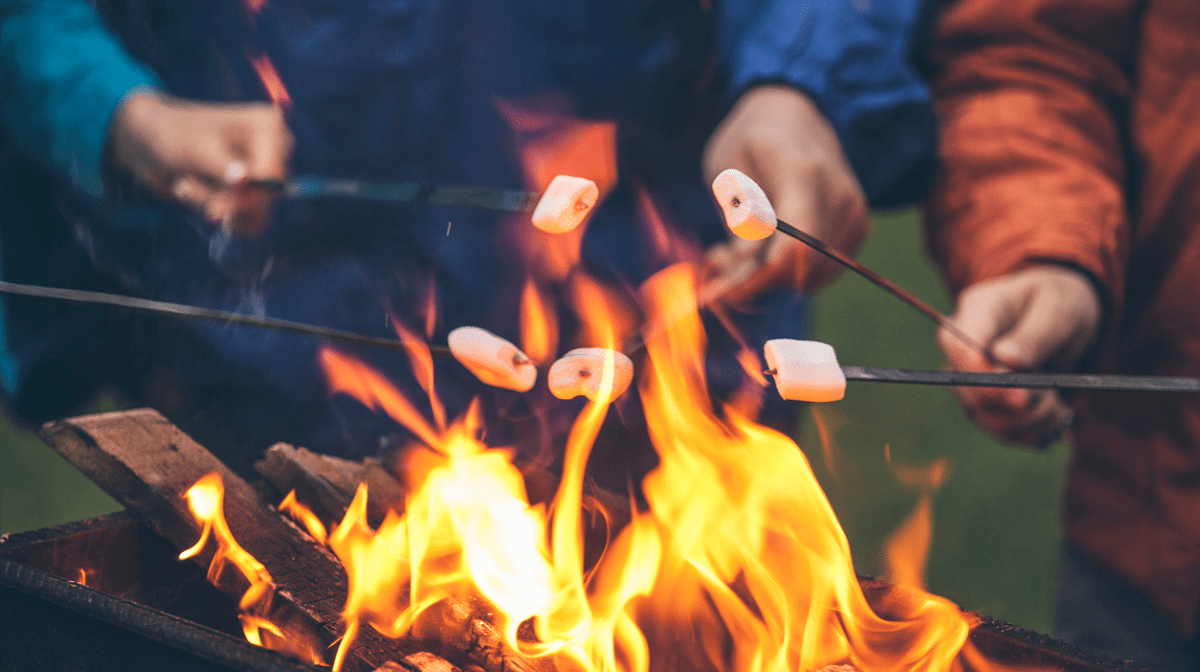 9. Trusty Camping Bag  
During winter camping, your checklist on what to bring on your camping trip may be larger than usual. That said, we'd recommend investing in a larger camping bag, like our Fraser The Rucksack.  
For those 'just in case' winter essentials, our Fraser The Rucksack provides you with 32L of capacity to play with. It also provides you with the upmost comfort when you're traveling thanks to the ergonomic foam-padded adjustable shoulder straps and back panel. 
We also have the perfect guide on space saving packing tips, so you can stay organised and pack efficiently for when you're next on the go. Check out our guide here: