Hiking is on the rise now more than ever. With the summer weather making an appearance, getting out and embracing the outdoors is at its prime.  
In the last month, Google searches for 'hiking in the UK' has increased by 80%, and with more people getting out onto the beaten path, we've crunched Instagram and TikTok numbers to reveal which adventure hiking trail is the most popular in the UK. 
So instead of opting for your usual walking spot, here are some of the most popular walking tails for you to check out all around the UK.  
England's Most Popular Walking Spots  
Top 10 Most Popular UK Adventure Walking Trails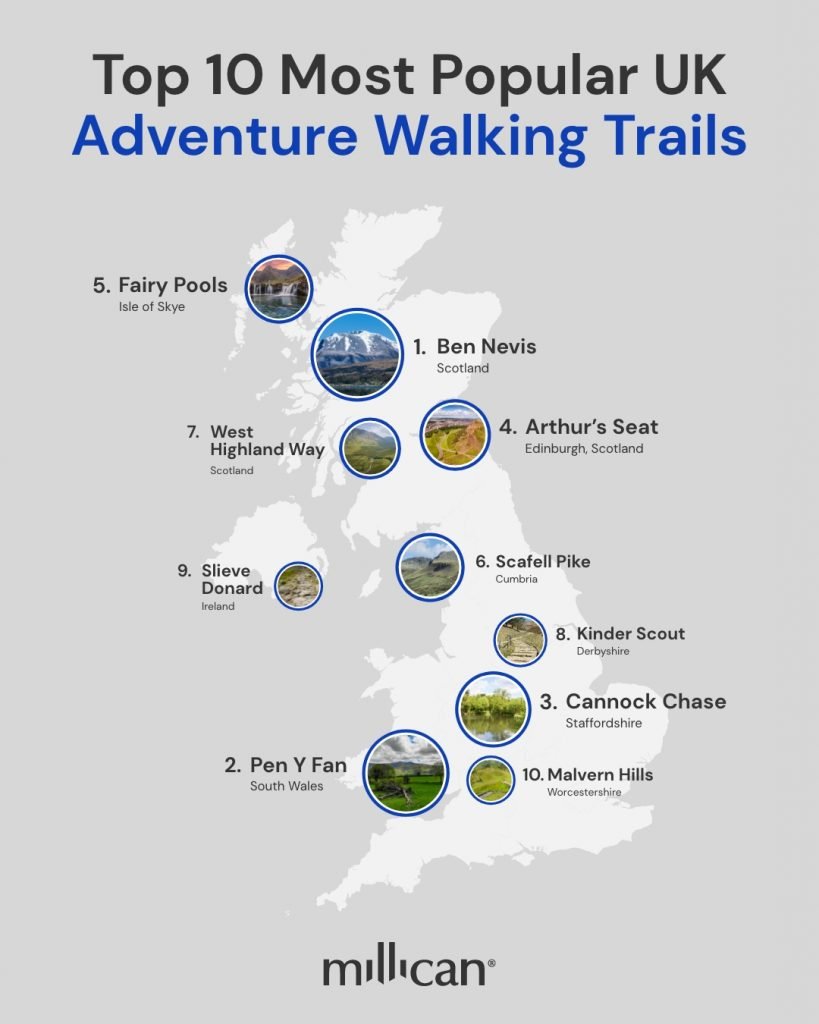 By adding up the total number of hashtags on both Instagram and TikTok, we found that Ben Nevis in Scotland was the most popular, with a staggering 80,712,208 hashtags. This was followed by Pen y Fan in South Wales, with 77,680,875 hashtags, and then Cannock Chase in Staffordshire with 69,462,309 hashtags.  
Top 3 Most Popular UK Adventure Walking Trails: Under The Microscope 
1. Ben Nevis  
Distance: 10.6 miles 
Duration: 4-6 hours 
Difficulty: Difficult 
In our top spot was Ben Nevis, with a staggering 80,712,208 hashtags. Located in the northwest Highlands, near the town of Fort William and part of the Grampian Mountain range, Ben Nevis attracts 125k walkers a year. So, whether you're an avid ambler or you just love beautiful landscapes, bagging 'the Ben' is likely to feature near the top of your Scottish bucket list. 
2. Pen Y Fan  
Distance: 4 miles 
Duration: 2 1/2 hours 
Difficulty: Moderate 
Coming into second place was Pen y Fan in South Wales. Pen y Fan is the highest mountain in South Wales and The National Trust estimate that around 350,000 people climb the mountain every year. Most visitors hike to the mountain top from the Storey Arms – but for a quieter and more rewarding route, take the path up from Taf Fechan Forest past Neuadd Reservoir.  
3. Cannock Chase In Staffordshire 
Distance: 6.9 miles 
Duration: 2 hours 43 minutes 
Difficulty: Moderate 
In third place, with 69,462,309 hashtags is Cannock Chase in Staffordshire. The area really is a magnificent place to explore and offers a wonderful day out with diverse walking areas and something for everyone. Cannock Chase is the smallest designated Area of Outstanding Natural Beauty (AONB) in England, covering just 26 square miles (68 km2). But what it lacks in size it makes up for with gorgeous trails through contrasting surroundings. 
Top 50 Most Popular UK Adventure Walking Trails 
The full list of the top 50 walking trails in the UK are as follows: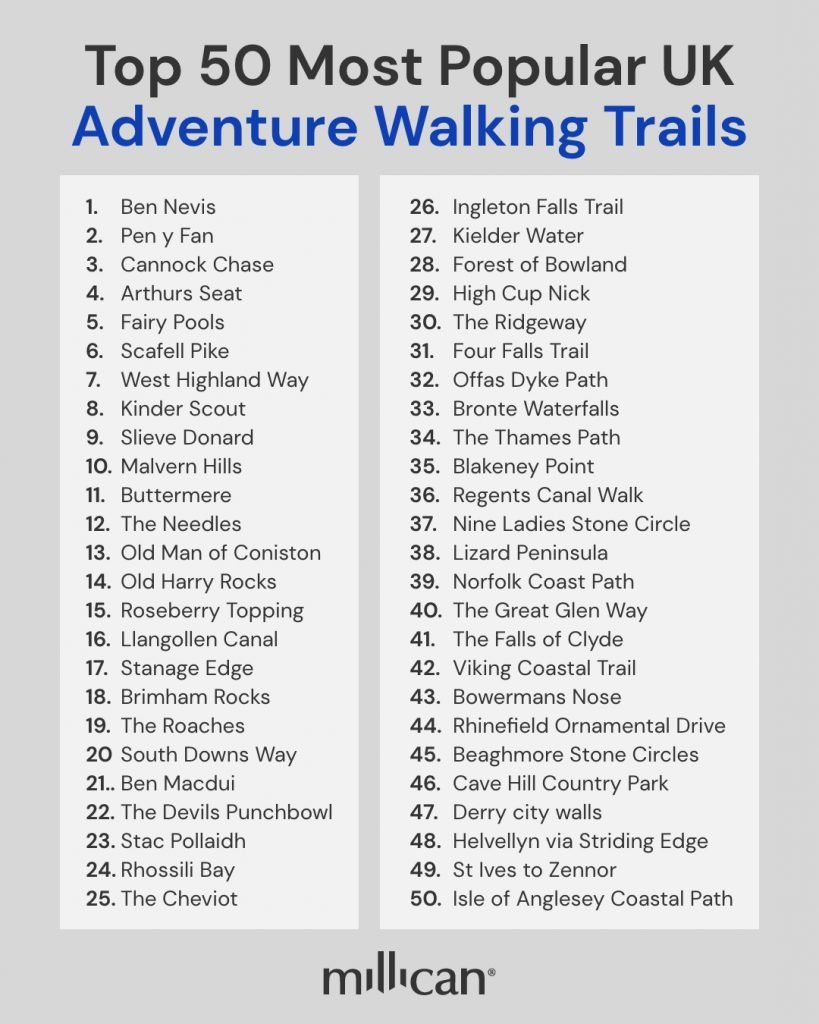 Top 3 Hiking Tips 
Before you start one of these adventure trails, here are some of our hiking tips you should consider ahead of your walk:  
1. Invest In Walking Shoes  
When going on a walk, it's important to have comfortable shoes that will support your feet along the way, instead of causing blisters and disrupting your journey. However, before you go on a walk, we recommend breaking in your walking shoes to avoid any blisters along the way.  
2. Bring a Backpack 
No matter how long or short your walk is, having a trusty backpack that you can store your essentials in will help you stay prepared and organised for the walk ahead. Why not try our Fraser The Rucksack? Not only does this backpack have ergonomic foam-padding to provide you with back and shoulder support, but it also features 32L of capacity, so you have plenty of space to fit in your essentials.  
3. Stay Hydrated 
Drinking plenty of fluids while you're tackling your walk is crucial to help maintain energy levels and prevent dehydration. Our Fraser The Rucksack also features a large adjustable pocket on the outside, providing you with easy access to your water bottle while on the way.  
Shop our full range of bags and bag accessories today.